GIG Student Colourways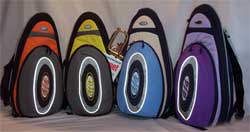 Student GIG bags are produced in high quality 600D Polyester and are available in FOUR Vibrant Colours for the young student or young at heart player. These BRIGHT, FUNKY bags are a real eye-catcher and at last make it cool to play a musical instrument. No longer will the young student be ribbed for carrying a bulky boring case. They now become the coolest kid on the block.
Make your young player the envy of their friends, not the butt of their jokes.
There are four brilliant colourways available in the student range.
Black/Orange/Grey with Silver piping.
Black/Yellow/Grey with Silver piping.
Navy/Cream/Sky Blue with Silver piping.
Navy/Lilac/Purple with Silver piping.
Please select the thumbnails below to view the exciting colourways of the student range.