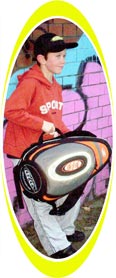 Stitched GIG Bags
GIG stitched bags were the first we produced. As the title suggests, these bags are manufactured by stitching component panels together using sewing machines. This is in contrast to the MOULDED range which have some stitched panels/pockets and back pack straps, but are mainly constructed using a bonded sandwich of moulds. GIG stitched bags are available in STUDENT and ADVANCED colourways.
All stitched products (excluding Guitar, Flute/Piccolo Box and Clarinet Box) have a wood base covered with tough anti scuff material. Inside they all feature material covered 40mm foam discs to provide a suspension system for your instrument. This means your GIG Bag stands up on it's own in a unique manner on a solid base and provides protection not seen before in the world of musical instrument carry bags.
GIG added large pockets with accessory compartments front and back to carry mouthpieces, music, mutes etc.
We also added fully reflective beading on the front pocket oval and reflectors on the back pack strap buckles. Night time safety is of great importance to the parents of young musicians and an issue we take very seriously, as you will see included in our designs over the whole range of product.
GIG use only top quality zippers and materials throughout. All pockets are lined with fabric and the way we construct our bags to combine all the component panels together into the base, is a real work of art.
Beware of cheap imitations, as they will be just that.......CHEAP!
GIG bags are built to specific design and quality regulations, not to a price.
GIG are the first bags on the market to truly cater for the players needs.
Ask about your nearest retailer now and check them out for yourself.